The Jet phone system does not support an integrated directory across an account or across a Phone User being used on multiple devices.
However, there are a few ways to upload and manage your contacts on an individual device.
Please note - these steps will upload on a single device. This will require manual maintenance for any changes, and will not be replicated if you log into your soft phone on a new device.
Jet Apps for Mobile (iOS, Android)
When you install the Jet app on your mobile device, you will have the option to import your phone contacts.
If you selected not to upload your contacts and would like to do so at a later date, please delete the app, restart your phone and reinstall the app. You can then select Yes on the permissions request to upload contacts.
Jet Apps for Desktop Apps (Mac, Windows)
Uploading contacts onto Desktop apps can be achieved by creating a csv file of your contact details and using the Import Contacts option.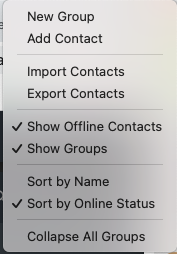 The format of this csv is dependant on the fields you require to be filled for each contact. Please follow the steps below for the best result:
From the app menu dropdowns, select Contacts and Add Contact.
Fill out the required fields and Save this contact.
From the Contacts menu, select Export Contacts. This will export a csv with the correct headers for each of your fields.
Fill in this csv file with the other contact details you need.
Use the Import Contacts option to upload.


You can choose to Add/Append contacts to your current list (note, this may create duplicates if you are uploading the same details again!) or to Import and Erase.

Ensure your presence notice is always set to No, as this feature is not available.
To view the online status of your Phone Users, please use the Jet Hub Online Status page.
Yealink Hardware devices
Selected Yealink models will allow you to add contacts to each device via the phone interface.
Please visit the Contacts menu on your device to configure, or consult your user manuals provided with each phone to complete this process.