Phone Users are what we call each of your Jet phone licenses. They can be used as an answering point for any group or Inbound numbers
A Phone User can be set up on multiple devices (eg: eg you can log in on your mobile app and your desktop app at the same time), but can only be in use on one device at a time.
Jet has two different types of phone users:
Jetphone - a Jet app login with a local number
Cloud Mobile - a Jet app login with a mobile number and SMS capabilities
When you set up your Phone User, it will take 15 minutes for your Jet app to be available.
Please return to the Jet Hub and activate your user after this time to be able to use your app.
If you are setting up a new service, make sure you have your new number ready to go first!
Click here to learn more: Choosing your phone numbers
Setting up your new Phone User
Step 1 - Under the Phone System menu, select Phone Users.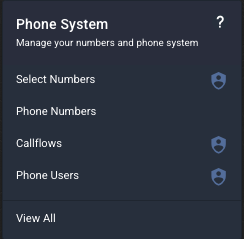 Step 2 - On the Phone Users screen click Create Phone User, this will show you how many users you have available to set up.

Step 3 - The pop-up screen will show you how many Jet phone or Cloud Mobile users are available. Click on an available category type to set this up.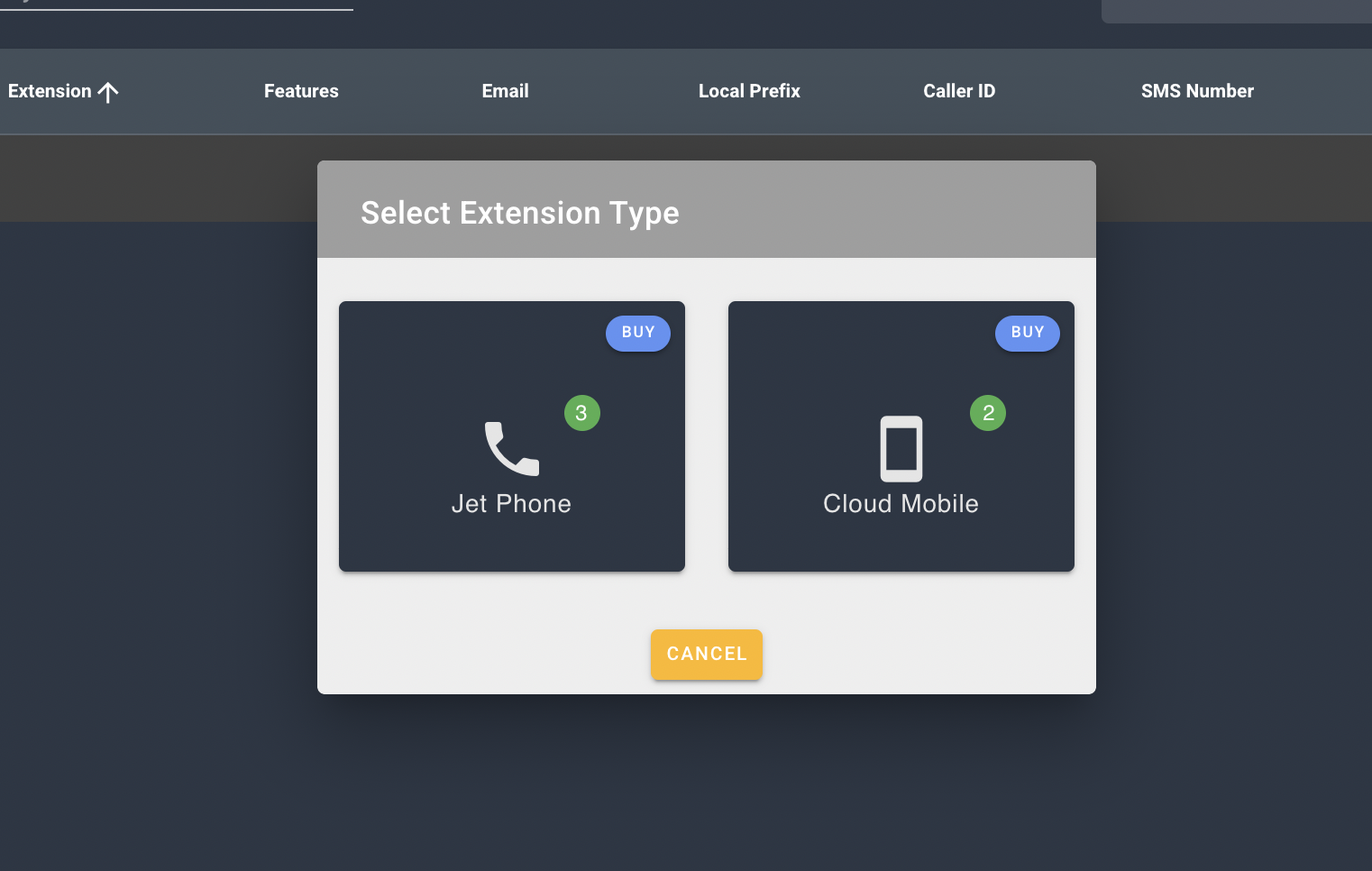 This will open the Phone User creation screen.
Step 3. Fill out the form with the following details:
FIELD
DESCRIPTION
Extension
This is the direct 3 digit number used by other phone users to transfer and direct-dial this user
Email address
This email will be used when sending the username/password credentials.
Display Name
this name will show in reports as the Answering Point, and also on the Jet phone apps as the user's name when logging in.
Local Prefix
which prefix the system should apply as the default for outbound calls
(eg: when set as 02/NSW, if calling 02 91464604, you can call 91464604 and this will automatically add 02 as the local prefix.)
Caller ID
This is the number that will display when you are calling outbound.
If you select a caller ID that shows as

AVAILABLE

, this is a new number that has not been configured yet. A new callflow will automatically be created for this number with a direct dial to your configured phone user and a voicemail.

Outbound SMS Number (Cloud Mobile setups only)

This will be the number you are sending SMS messages from (normally the same number that you have selected as the caller ID).
A completed form will look like this: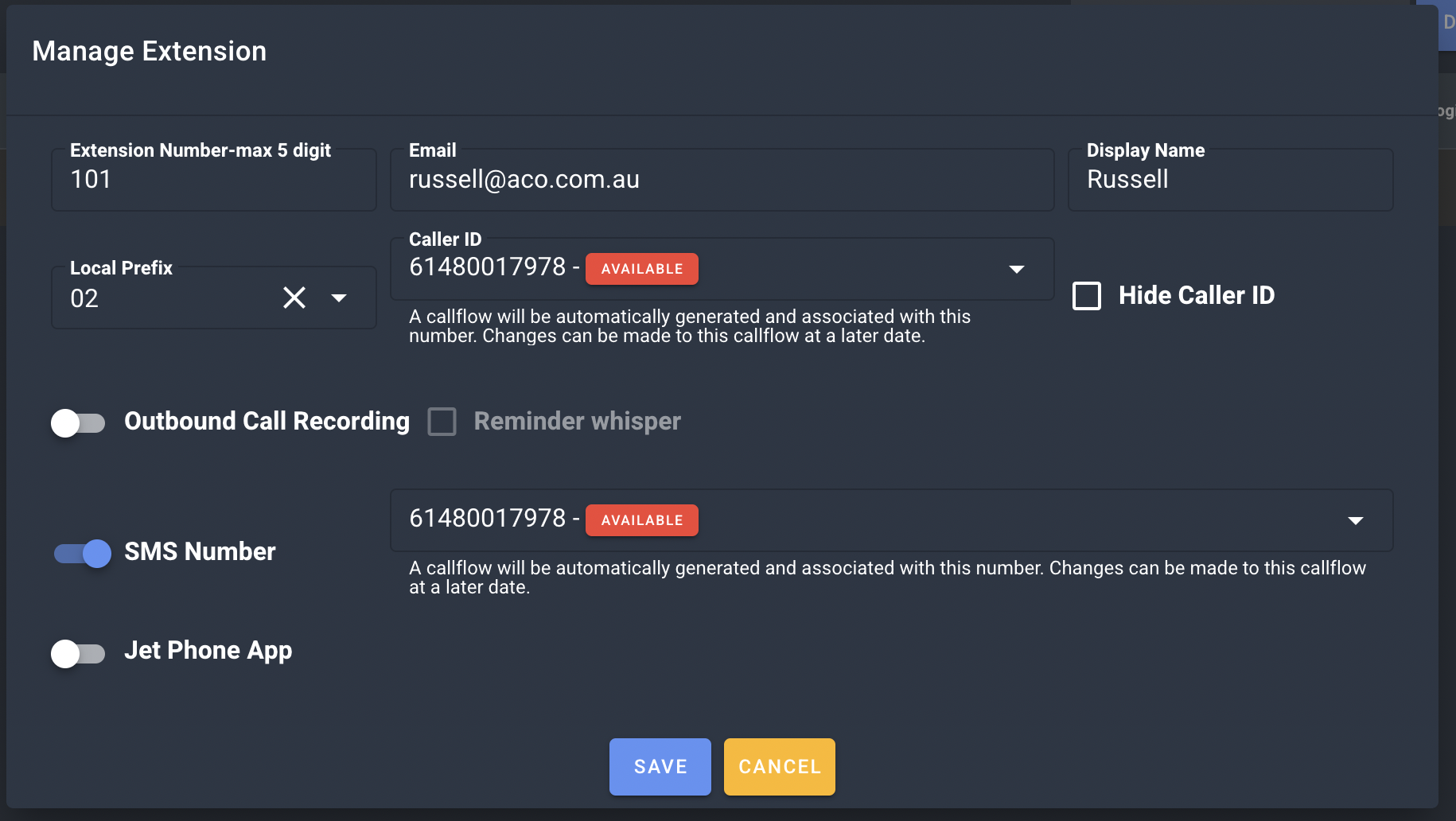 Click Save.
Wait! You're not done - please keep reading to learn how to activate your Jet phone app!
Activating your Jet app for mobile or desktop
If you are going to be using the Jet softphone apps for desktop or mobile, your Phone Users will take up to 15 mins to be able to be used with an app.
While your phone user is in the process of being set up but is not ready for use yet, your Jetphone Login will display as Pending.

Once the Jetphone login is displayed as Activate, click the activate button.

This will create the login details for your Jet softphone and allow you to send these details to the user email immediately or continue editing the phone user to modify the app login details.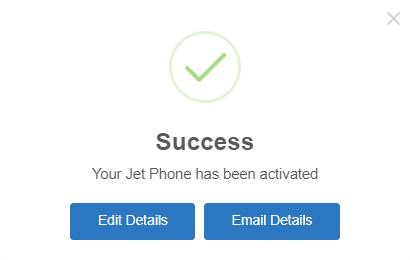 Note: the username and password for your Jet phone app is different to your Jet Hub portal login details.
This allows you to give any staff member access to the Jet phone app without having access to your Jet Hub reports and call management features.
If you want to send these details at a later time (like if the staff member has not started yet), you can click the email icon next to your new user once you are ready for them to receive their login details. The user will receive an email with links to download the Jet apps and their username and password.