Welcome to Jet! It's great to have you on board. This article will show you everything you need to know about getting your account set up. In this article we will explain how to:
Alternatively, if you would like a Jet team member to set up your account for you please see Jet Setup Packages for pricing on managed setups.
If you choose to go ahead with a managed setup, please submit a request to Jet Support. A Jet Support member will then be in touch to discuss your requirements.
Getting Started
The first step to activating your account is to log into the Jet Hub. The Jet Hub is our online account management portal and contains all your account details and phone system configuration.
You can use Jet Hub to:
Login Into Jet Hub
Please check your email for a message from us with a invitation link to Jet Hub.
Please open this email and click Continue.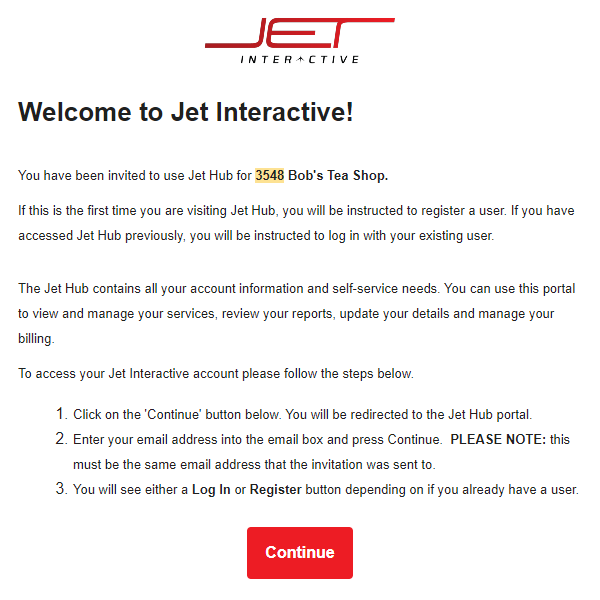 This will take you to the sign-on screen for Jet Hub, please enter your email (this must be the same email address that we sent your invite to) and choose a new password. Then click Register.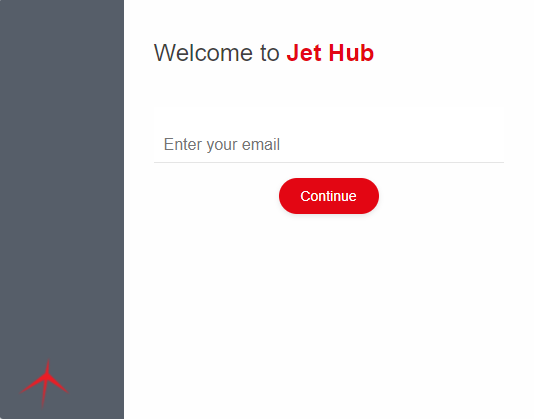 If your email address is associated with a Google account, you can choose to Sign Up with Google instead. Please note - if you choose this method, you must always use your Google account to login in future.
You will now be able to access the Jet Hub. For a quick tour of the Jet Hub please see Jet Hub Home Page Guide.
If you have any issues logging in please contact Jet Support.
How to Create Your Phone Users
To start using your Jet Phone you will need to setup your Phone Users. A user can be set up on multiple devices, (E.g. you can login using the Mobile App and the Desktop App at the same time) but can only be in use on one device at a time.
Jet has two different types of users:
Jet Phone - a Jet app login with a local number
Cloud Mobile - a Jet app login with a mobile number and SMS capabilities
Choose Your Phone Numbers
Step 1 - Under the Phone System menu, select Select Numbers.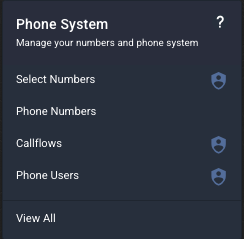 Step 2 - You will now see how many available numbers you have next to each number type. In this example below, they have 2 x 1300 numbers available and 1 x Local number available.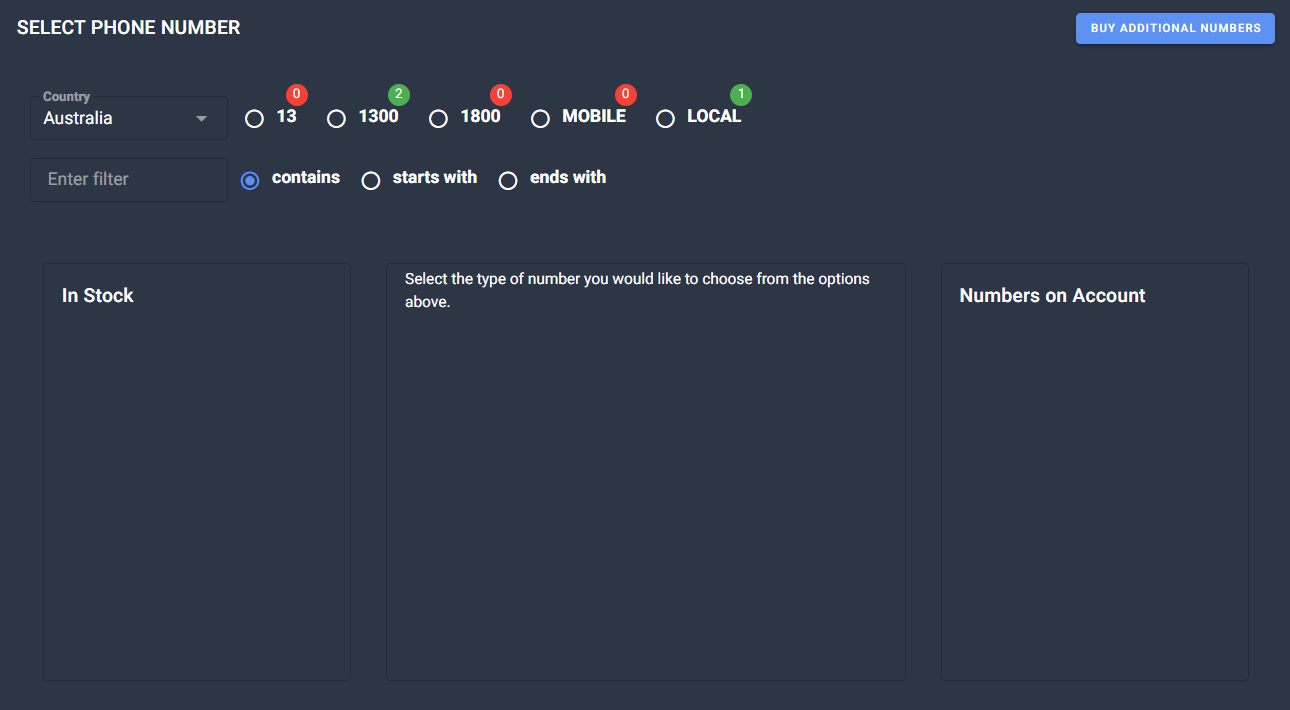 Step 3 - Once you have selected the number type, additional search options will be displayed depending on the number type selected. If you are selecting a local number, you will need to select your local prefix (eg: 02, 07, etc) and you can also select a specific district or zone if required (eg: Sydney).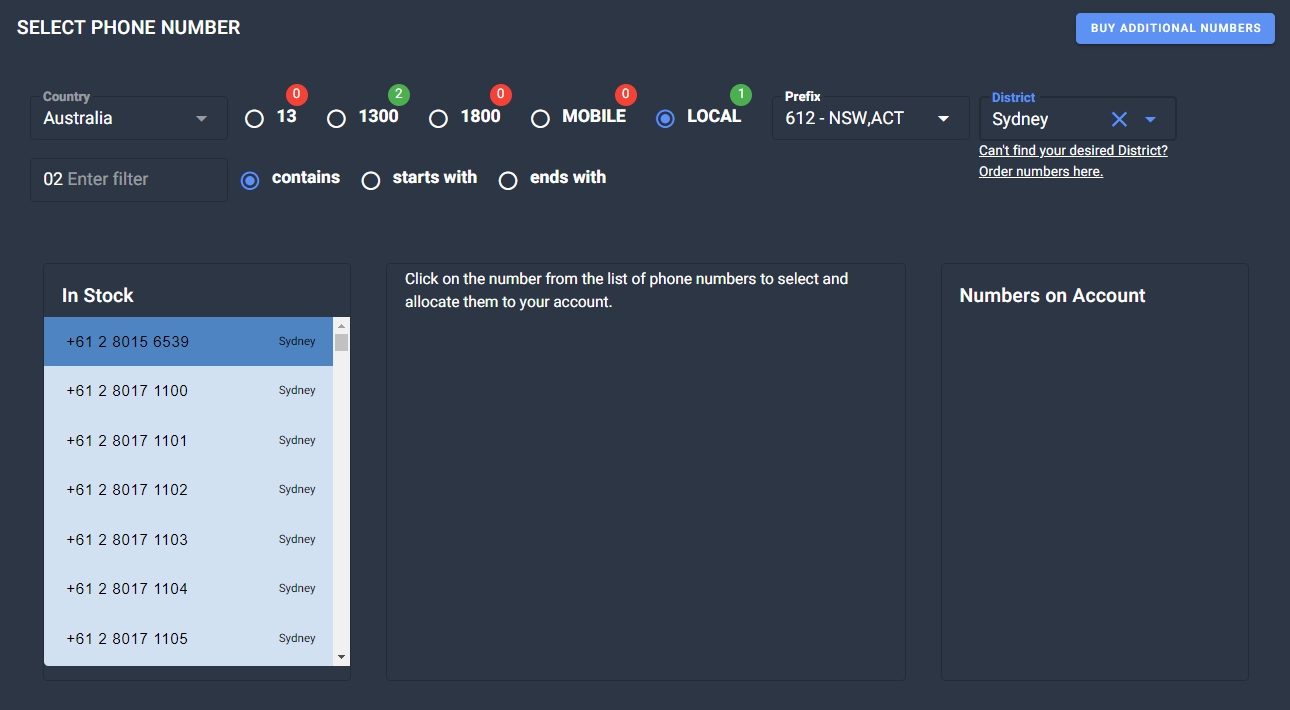 Note - If you cannot find a suitable number from the Available Numbers list please reply to your setup ticket with Jet Support to request a stock purchase.
Step 4 - Browse the Available Numbers list for suitable numbers. You can filter the numbers using terms such as starting with, containing or ending with a certain number sequence.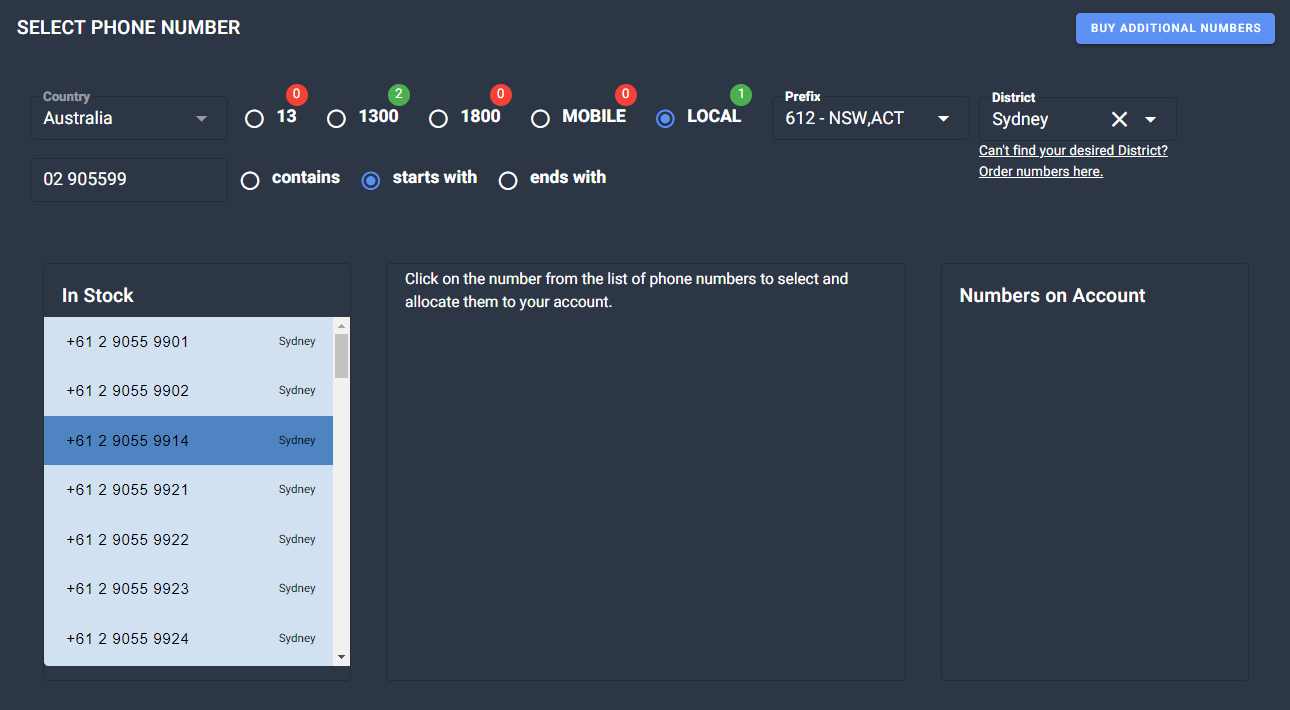 Step 5 - Select the numbers you would like. Once selected you will see the number displayed in the list to the right. Then click CONFIRM.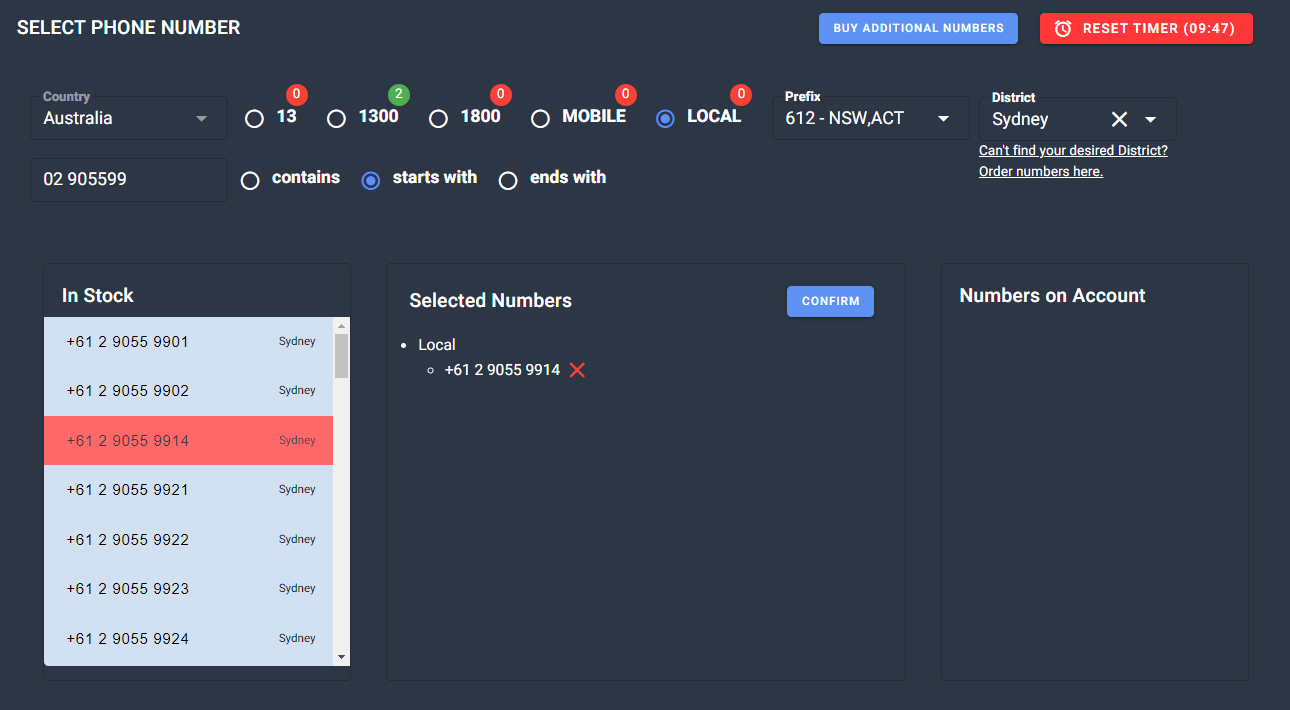 Step 5 - Select Yes to confirm your selection.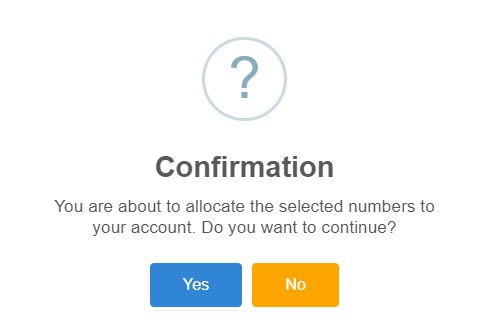 Step 6 - Once you have selected Yes you will be taken to the Phone Numbers page where you will see the number of available numbers in the top right corner.

Now you can set up your numbers.
Setting Up Your Phone Users
Go to Phone Systems and then Phone Users from the home page.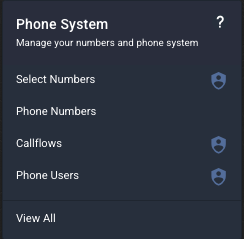 On the Phone Users screen click Create Phone User, this will show you how many users you have available to set up.

The pop-up screen will show you how many Jet Phone users and Cloud Mobile users are available, click on a user type that you have available. This will open the Manage Phone User window.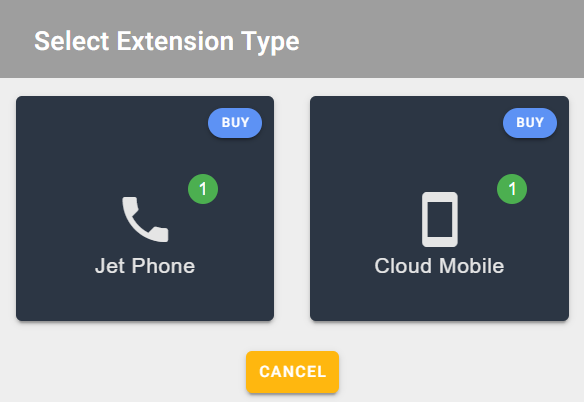 In the Manage Phone User menu, fill out the details for this user. For more details about what information to enter here please see How to set up a new Phone User.
An extension number should be 3 digits (e.g. 101) and is used to transfer calls internally or make calls between your users.
The local prefix is typically the state that you are in. E.g. 02 for NSW.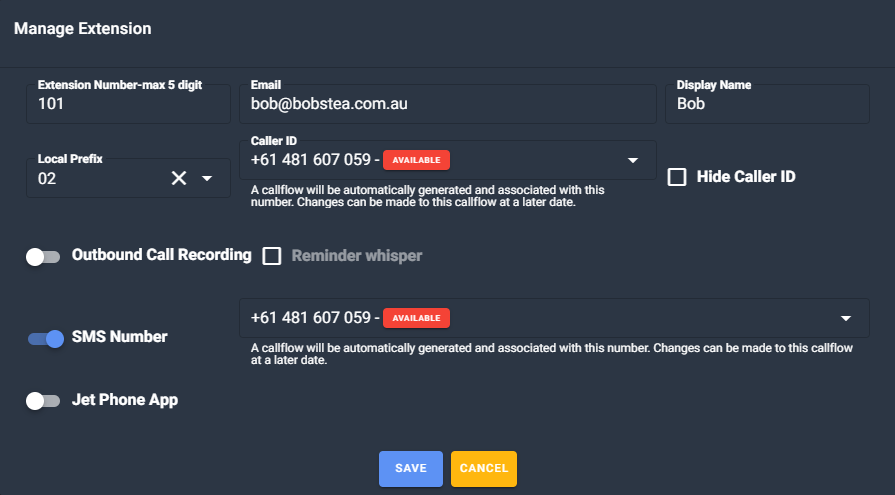 Your Phone Users will take up to 15 mins to be active. Once 15 minutes have passed, you will see the Jet phone Login status change from Pending to Available.


Now you can set up the Jet App login details by clicking Activate. This will allow you to create the login details for your Jet App for desktop or mobile. You will also be able to send the login credentials to the listed user's email address.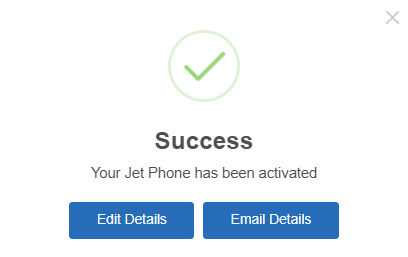 To edit the Jet Phone Username or Password in future, click Edit Details or the edit button next to the user you would like to change.

You have the option to email details immediately or at a later time, to send the details at any time click the email icon next to the user. The user will receive an email with links to download the Jet apps and their login credentials.
The username and password for your Jet Phone is different to the Jet Portal login details
For more information on setting up phone users please see How to set up a new Phone User and How to modify Phone Users.
Manage Inbound Phone Numbers
You can have additional phone numbers linked to your account that are not associated to a Phone User. This could be a 1300 number, 1800 number or your business inbound landline. You can create a new callflow for these numbers, so they can route to a specific Phone User, multiple Phone Users, a queue or an IVR Menu.
For more information on setting up inbound phone numbers please see How to create a new callflow and Activating an available number.
Create Queues
Call queues allow you to leave callers waiting in line if all your Users are busy.
Some queue features include:
Music on Hold - Audio to be played while the caller is on hold.
Ring Strategy - Should multiple Users be called at once or one after another.
Queue Capacity - How many callers should be waiting at any one time.
Announce Position - Announces the position of the caller in the queue.
Periodic Announcement - E.g. Press 1 to leave a voicemail.
Whisper - A short audio file played to the person who answers the call. E.g. Call from sales.
Queue features can be quite complex. Please see Understanding your Queue Setup for a full list.
For more information on creating and modifying queues please see: How to set up call queues and How to modify your call queues.
Create Callflows
You may want to set up a 1300 or 1800 number that goes to an IVR Menu or to a Queue that will ring on multiple Phone Users. This can all be done through the callflows using widgets.
A callflow will be automatically created for every Jet Phone or Jet Cloud Mobile User that you activate (note - you must be selecting an Available service each time for this to happen).
A callflow is made up of Widgets. Widgets are all the features that you have associated with your Phone User or phone number.
Widgets features include:
Dial - What Phone User or external number should the call connect to.
Greetings - Audio message to be played at the beginning of a call.
Hang up - Hangs up the call.
IVR Menu - Interactive Voice Response menu to direct callers to different Users or external numbers based on the option they select.
Voicemail - Audio message to be played and configured email address to send a recording link.
Email - Notify a user by email of a call or SMS.
Post Code - Route calls based on the postcode entered by the caller.
Time Routing - Route calls based on the time of the call.
Geo Routing - Route calls based on the location of the caller.
SMS - Used for Cloud Mobile users to receive SMS to the Jet App.
Queues - Leaves callers in a line waiting to be answered when a User is available.
For more information on Widgets and their functions please see Callflow 101.
For more information on creating and modifying callflows please see: Callflows and How to create a new callflow.
Accessing Billing and Payments
In the Jet Hub, you will be able to view and update your billing details and payment methods, as well as make payments.
You will also be able to view:
Current services
Current invoice
Previous invoices
Payment methods
Outstanding amounts
For more information on viewing invoices and making payments please see: Billing
Setup Complete
Your setup and account should now be completed and ready to start taking and making calls. We hope you enjoy your time with Jet!
If at any time you require support please visit our Help Center.
Jet's support centre has been custom built and contains articles on everything you need to know about your Jet services, you can find articles on adding new features through to troubleshooting steps.
If you do require additional support, you can Submit A Request via any page of the Help Centre using the button in the top right, or by this link: Submit A Request.
Once your ticket has been submitted, this will be assigned to a member of the Jet Support Team for your ticket type, and they will be in contact shortly.
All support requests must be submitted through the submit a request form, the Jet support team can only assist customers that have an existing ticket number.
Welcome to Jet!