The IVR report will allow you to view the results of your IVR selections across all callflows.
This report is based on the final IVR entry that a caller has made. This means if a caller has passed through multiple levels, it will only recognise the name of the final selection they have made.
When building an IVR, it's important to note that the names that you give your departments or options will show up in your reports.
We recommend making these names unique - (for example Sales voicemail vs Support Voicemail) - to ensure clear reporting).
Using your IVR report
Your IVR report is located under the Behaviour section in your Reports category of the Jet Hub menu.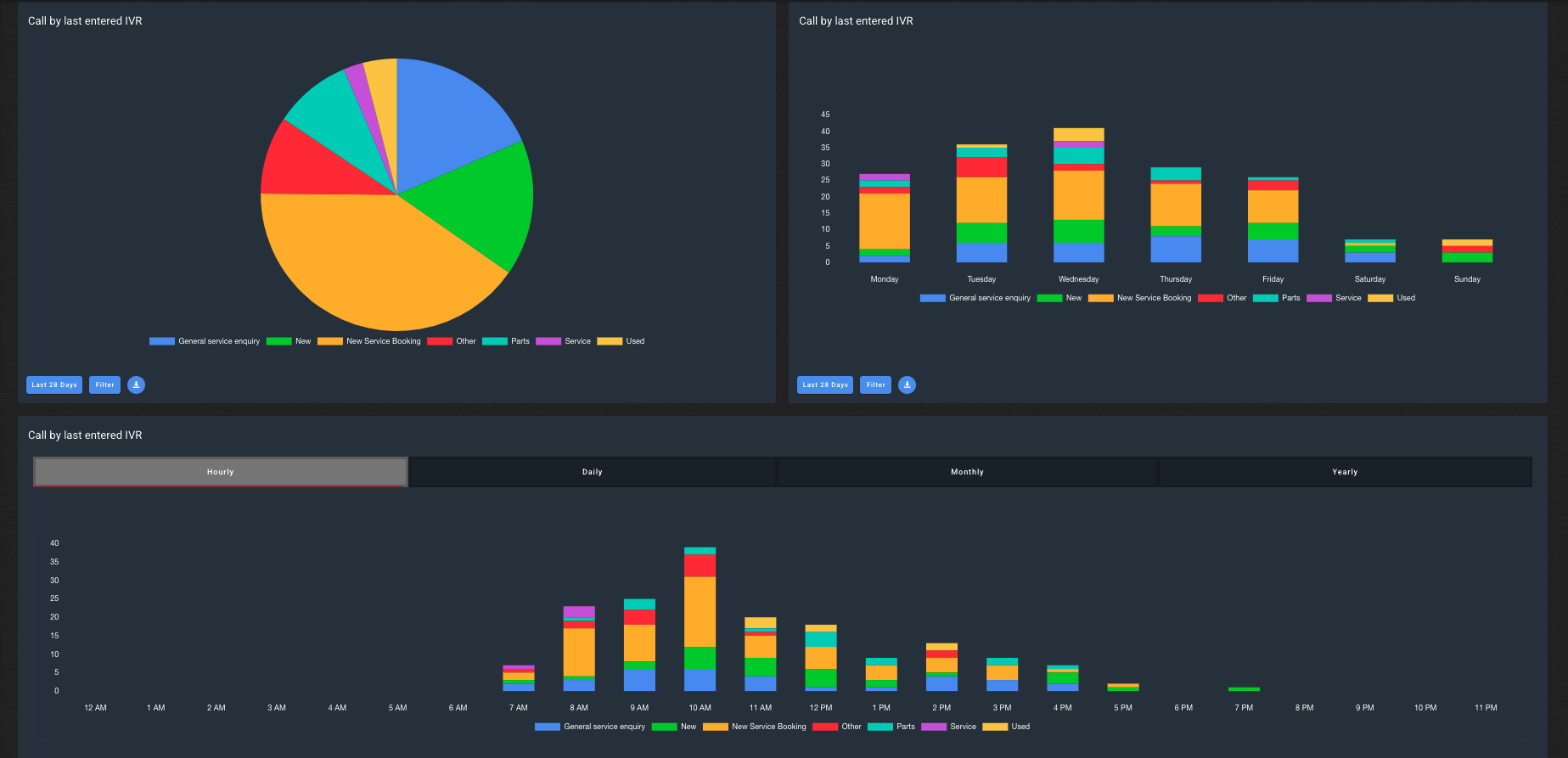 Each of these graphs presents your IVR data in a different way. We will break each graph down in more detail below.
You can use your date picker and your filters to change the parameters of your display. Please note - these filters apply to the graph only, and may not affect the entire page (3 graphs).

For more information on filtering reports, click here: Using Jet Reporting
Pie Chart
The Pie Chart graph will show you the percentage of total calls that selected each option.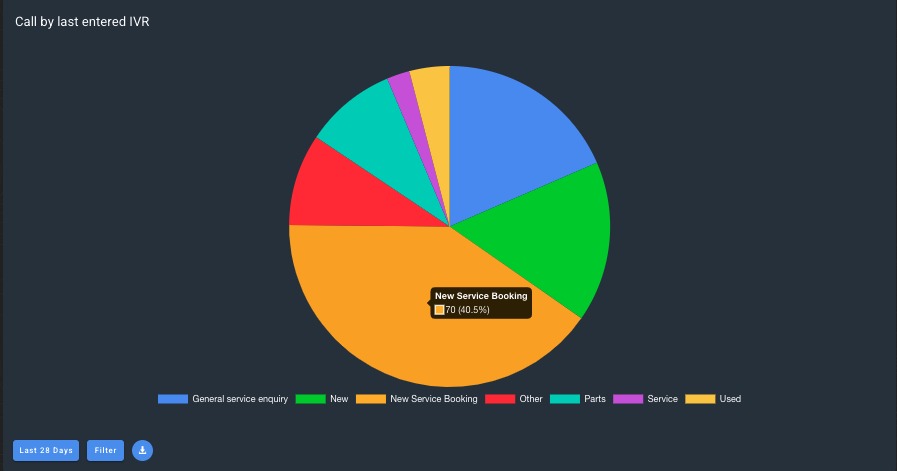 If you hover your mouse over one of the sections, this will display the total number of calls in this entry and the percentage of your total in this category.
To quickly remove one of these options, you can click on the text of each option to remove this data from your graph.
For example - remove New & Used sales calls from this car dealership to only view information on Service, Parts and Other calls.

Days of Week Chart
This chart will show you call volumes and the number of calls for each department on specific days of the week. This is helpful to show which days your phone lines are busiest, and which department is taking the most calls for each day.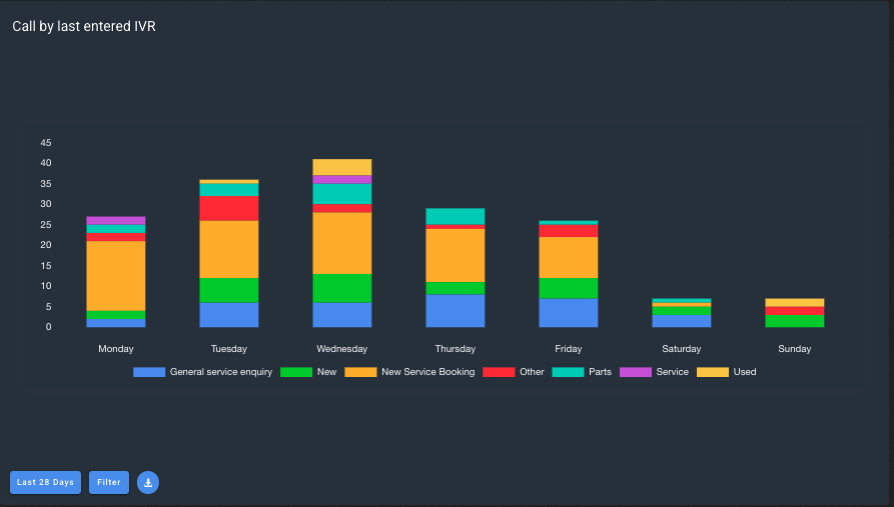 Hovering over a colour on a day will show you the count of calls on this day for this IVR option.
Note that this graph above is set to a date range of 28 days. This means the total calls on Monday for this period will have 4 Mondays worth of data in them.
Time range chart
The Time Range chart has multiple sections that you can choose to look at.
This defaults to Hourly, which shows the breakdown of calls by hours of the day based on their IVR selection.

For example, in the graph above, you can see that New Service Bookings are primarily made in the morning, with the most calls coming between 10am-10.59am.
You can then use this information to ensure your Service department is fully staffed during the mornings, when phone lines are busiest.
You can also use the Daily option to view the breakdown of calls per day (note the graph below is set to a date range of 28 days). You can see trends forming here of Wednesdays being the busiest day for calls, especially for the Service departments.

If you bump out your date range to a Custom timeslot (eg: 1/1/20 to 31/12/21), you can also view similar graphs for Monthly or even Yearly comparisons.


This will show you the breakdown of caller IVR selections in these date ranges.
Hovering over any colour in these graphs will show you the call count of each selection.
You can still click on the text result at the base of each graph to quickly filter these selections out of your data.