This article will provide an overview of the Invoices & Payments screen, including how to download invoices.
To access your billing information, please select Invoices & Payments from the
Accounts menu.
For more specific payment information, please view our other articles on billing:
Account Balance
Your account balance is comprised of all currently due invoice charges, less any credit amounts you may have on your account.
This balance is for the account you are currently logged into. To view a different account, please use the Switch Account option from the top-right menu.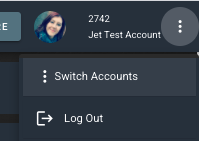 To view the full breakdown of your balance, click the Balance breakdown option and this will display the full balance breakdown for your account.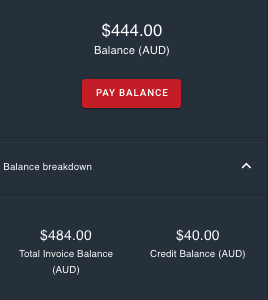 Invoices
This is a list of all Invoices for the account you are logged into.
This view will show you the following information:
Status - This will either be Paid, Overdue or Payment Due.

Paid means we have received payment in full.
Overdue means there is a balance owing on this invoice and the Invoice Due Date has passed.
Payment Due means there is a balance owing on this invoice but the Invoice Due Date is in the future.

Invoice Date - This is the date the invoice was issued.
Invoice Number - This is the unique identifier of this invoice. Please include this number if you are contacting Jet Support for any invoice queries.
Invoice Due Date - This is the date the invoice is due. If you have an automated payment method, it will be processed on this date.
Amount - This is the amount invoiced on this date. This is shown in your local currency, which is listed under your Account Balance.
Balance - This is the amount remaining to be paid on your invoice.
Download - Click this icon to download your invoice. This file will download as a pdf.


If you have any queries on your invoices, please Contact Support and include your account and invoice number.
Please note - any enquiries related to Billing will need to be submitted in writing by an authorised contact on your account.
Payment Methods
This is a list of all active payment methods on your account. A payment method can either be a credit card or a bank account.
The payment method in use for your automatic direct debits will be marked with a green star.



If you have multiple payment methods, you can use the Actions panel to change the default method or delete the additional method on file.


You cannot delete the default payment method, and payment will be processed on your Invoice Due Date (see above). If you wish to change these details, please do this before your payment date.